Few weeks ago, I got a phone call from Joyce, a journalist in Al Siyasa newspaper, and she wanted to talk about pregnancy and healthy eating, or in other terms diet for pregnant women.
She came to my office in Health Company, and we had a long talk about that topic.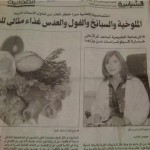 On Monday, May 3rd, 2010, the interview was released, here it is!