This is the second time I eat in This restaurant.
 Its name is Mouhallab, Located in Palms hotel. I can say this is a traditional seafood restaurant. The atmosphere is typical Arabic, with shisha, arabic coffee, tea and dates served  all over the place. And the food is veryy tastyy!!
  You order the kind of  fish you wanna have, which you can see live in front of you, and they bring it to you fresh like you wanted to be.
Here is what I tried:
The salad as appetiser: small  Green salad: 40 calories
Moutabbal as appetiser: Small plate: I took 3 tablespoons:  60 calories
Hummos as appetiser: Small plate: I took only 1 tablespoon:  35 calories
Grilled shrimps: I took 5 pieces: 70 calories (without sauce)
Shyme grilled fish: I took half of it: 150 calories (only the white fish, without skin) + lemon
Sauce of the shyme: tomato sauce, garlic, olive oil and herbs: I took 1 teaspoon: 20 calories
No bread
Vegetables like lettuce, cucumbers and tomatoes, so I use the lettuce to eat the appetisers instead of the bread
2 tangerines: 60 calories
The total of this lunch makes 435 calories… Perfect, fulfiling and a great source of omega-3 fatty acids! 😀
Here are the pictures: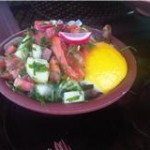 SEE!! even  if you are out for lunch or dinner, it's ONLY  YOU who decide about the food choices, the food quality and quantity you want to have… 😉