I have posted before a dinner in Osaka, but that was in Hamra, Lebanon!
http://www.eatlikemira.com/2010/08/10/osaka-sushi-dinner/
Yesterday was the birthday of my friend, and a friend of her prepared everything for the surprise!
He got Osaka catering to the house. The chef was preparing  tastyyy pieces, salads, special makis, salmon sashimi, crispy rolls and many other things!!
Everything was fresh and ready to eat on the spot!!!  😀
We couldn't stop eating, the taste is so addictive, and the good thing about it is that you can order anything you want, even  unique rolls, that can be done especially for you in few seconds! 
I couldn't take good shots because the bar was crowded, but I tried as much as I can to take some pictures of what I ate, in a discrete way! 😉
Here are some pictures I took!
A plate of crazy avocado & hamba: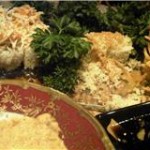 8 pieces ( 4 from each)
Crispy and Delicioussss!! 😀
Shrimp salad: 4 Tablespoons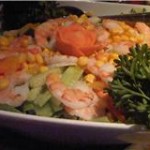 Salmon sashimi & tuna: 6 pieces (3 from each)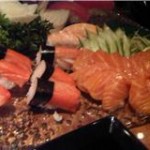 Salmon Avocado Salad: 3 Tablespoons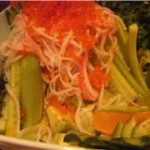 This healhty dinner is full of omega 3 fatty acids and makes a total of  550 calories in average! It is worth it!!
Another surprise was the birthday cake!! The manager of mondanite magazine in Kuwait prepared this special cake as well!
Although the cake seems so delicious  but I didn't taste it! (I don't prefer sweets at night)
Happy birthday zanzounnn!! 🙂