This pure American breakfast restaurant  is now the "IN" place in Kuwait!!  Located in Jabriyya, it has the perfect location that assembles people from everywhere!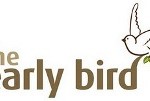 They serve delicious food including pancakes, biscuits n' gravy, french toast, omelets.
The specialties of the shop: homemade sausages, and banana bread! Not to mention SPECIALS are offered every weekend.
The menu is varied, mmm…Not really low-fat!
 Personally, I tried to choose the most healthier breakfast and I went for the white egg omelet 🙂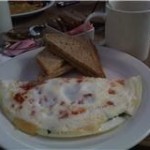 Served with 3  brown toasts slices, this omelet is made of 3 white eggs, stuffed with yellow cheese, some tomatoes, and spinach. I asked the waiter if they fry it with oil, he said that they use the spray oil. This spray is zero in cholesterol with no calorie at all!  😀
 Egg whites are fat-free, cholesterol-free and a great source of protein which is easily absorbed and digested by the body. Besides that, it makes you feel fuller for the rest of the day.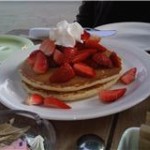 As a dessert, my friend ordered  a strawberry pancake  topped with honey syrup. It looked yummy so I couldn't resist it!
I took half of it with my caffe late (skim milk) It was really tasty!!
That was my brunch yesterday! It's not that bad to treat yourself on the weekends!! 😉
 Early bird opens  six days a week from 5 am to 3 pm and closes on Sundays.
Here's their menu!!