Parmesan cheese is one of my favorite cheeses! Well That's for sure if I love the Caesar salad!  And I always order it with extra parmesan cheese 🙂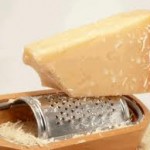 For those who are wondering if this kind of cheese is fattening or non healthy, here is the fact!
Parmesan, made throughout northern Italy,  is one of a category of cheeses called grana because of their grainy texture
When we say cheese, we directly think about it as a fat food item, rich in salt, saturated fat and cholesterol.
That might be true for some kind of cheeses, but not for Parmesan cheese…
First, Parmesan contains 33% protein compared to 20% in lean beef and that animal protein takes 4 hours to digest while the protein in Parmesan takes just 45 minutes. Plus Parmesan cheese contains Bifidus bacteria which is the healthy bacteria needed to maintain a health gut with NO LACTOSE! That's a great news for people who are lactose intolerant 😀
The cholesterol content of Parmesan is only 80 – 85mg/100g, much lower than other full fat cheeses.
According to healthy guidelines, cholesterol consumption should not exceed 300 mg per day… So our daily eating foods should contain some cholesterol which is needed for our cell membranes and is an important precursor to steroid hormones. But, be careful to pick up healthy foods containing cholesterol, like boiled eggs, grilled shrimps, low-fat dairy products rather than fried and butter rich sweets!
What vitamins are present in shredded Parmesan cheese??
The main vitamins present are Vit B12 , Vit B6, Vit D and Vit E 
– Vitamin B12 and vitamin B6  are essential to the body and can help with weight loss when combined with a healthy diet and exercise.
Vit D:  fat soluble vitamin present only in full or low- fat foods,  essential for normal bones formation.
– Vit E: Also a fat soluble vitamin, essential to prevent  heart diseases and certain kinds of cancer.
Nutrition Facts ( full fat Parmesan cheese)
Amount per Serving
Calories 25, and  Calories from Fat 14
% Daily Value
Total Fat 2g                               2%
Saturated Fat 1g                       3%
Sodium 95mg                            4%
Total Carbohydrate 0g     0%
Dietary Fiber 0g                     0%
Protein: 2.5 g                            5 %
Nutrition Facts (low- fat Parmesan cheese)
Amount per Serving
Calories 20, and  Calories from Fat 10
% Daily Value
Total Fat 1g                                     1%
Saturated Fat 0.05g                     0%  
Sodium 75mg                                  3%
Total Carbohydrate 0g           0%
Dietary Fiber 0g                           0%
Protein 2.5g                                    5%
So as you notice, If you love Parmesan, choose a low- fat variety for your salad while still getting adequate flavour 🙂