Saturday is my first working day! And after some munchies during the weekend, I  always try to keep it healthy during the weekdays 🙂
And It's been a while that I haven't shared my eating journey with you.
As mentionned before I always start my day by some exercises which consist of some cardio and some workout set ups. and I do that before eating anything. ( That's the  faster way to burn fat).
And here is what I had:
– 2 glasses of room temperature water. I also drink water all day long and before every meal.
8 A.M: 1 low- fat activia yoghurt ( 70 calories)
9 A.M: 1 black coffee with tropicana sweetener
10 A.M: I was hungry by that time so I passed by starbucks next to me to get the Medittereanean Sub  Sandwhich but I found out that they have changed all their sandwhiches!
They recommended me to try the Mediterranean roasted browm sub: Parmesan cheese, roated vegetables (courgette, onion, eggplant, red and yellow capsicum), rocca leaves in a brown baguette.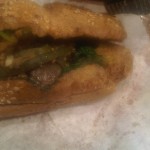 It has in average: 400 calories
– 2 A.M: Nagrour fish fillet with baked potato + rocca mushroom salad
(300 calories)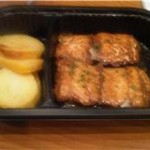 – 5 A.M: Light mocca also from starbucks  (110 calories)
– 8.AM: Low-fat halloumi cheese with 1/2 brown baguette, stuffed with mint and tomatoes.
             I had cut Cucumbers and tomatoes with that.    
(300 calories)    
– 11. AM: – 1 medium size red apple ( 60 calories)
So the total calories for that day was 1240 calories, good enough for me 🙂
So now start to share your eating habits with me! And… By the way when you write down your daily eating meals, you realise the amount of foods you had throughout the day!
Try it! 😉