Last night we decided to have dinner there.
Honestly, it was my first time to try it! yes!!! Don't be shocked it is! As I am not into Chinese foods!
PF Chang's is actually considered an American chinese restaurant.
Well The food is fatty and oily, I admit but it is soo tasty!
And here are the items that I tried:
1- Miso soup: You need to try it!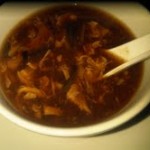 That soup contains tofu, chicken, it is sweet and sour, you can see that it is oily, but is considered as a healthy soup 🙂
1 bowl: 120 calories in average
2- Chicken lettuce wraps: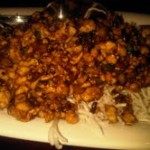 It is a combination of noodles and some chicken strips. It is spicy as well.
That comes with some cabbage on the side,(you roll it with the chicken and noodles) but I donnow why it is called chicken lettuce wraps! lool
I had 2 thin cabbage wraps: 150 calories in average
3- Dynamite shrimps: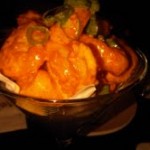 That one is really delicious!
It is grilled but its taste is soo addictive that you can't stop it! It is spicy of course and has the sweet and sour taste.
I took 6 pieces: 230 calories in average
4- Mongolian beef: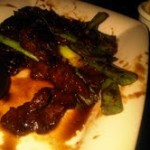 Everyone advised me to try that!
I am not a meat fan, but I gave it a try.
It tastes very good but I just took a little of it. 🙂
2 pieces: 60 calories in average
All the food is honestly delicious. It is different from other chinese restaurant. The taste, the flavor, the sauces and the smell are just different! 
It is oily but remember it's always YOU who can control the choices and food portions!
The total dinner made in average: 560 calories