I have Mentioned at the beginning of this blog, the Food Guide Pyramid and said it is the indicator of a healthy and varied eating plan.
The Food Guide Pyramid is an outline of what to eat everyday based on the Dietary Guidelines.
http://www.eatlikemira.com/2010/01/10/food-guide-pyramid/
But now we can say: Goodbye pyramid. Hello, plate!! 😀
The USDA, the agency in charge of nutrition, has switched to a new symbol: a colorful, nice, easy to understand plate, called My Plate, with almost the same messages:
– Eat a variety of healthy food!
– Increase the portion of some food and decrease other kinds of food!
The Pyramid had six divisions which represent the 6 food groups, with the emphasis of a low consumption of oils and sweets.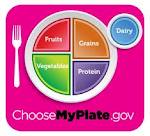 The plate is divided into 4 groups: the vegetables, the fruits, the grains and the protein, with another separate group to be consumed while eating, dairy product (milk or yogurt).
My plate also encourages to eat more vegetables than fruits, as well as more protein intake from vegetable sources (grains) rather than animal sources.
My plate is also focusing on organising our plate when choosing our meal. It aims to discourage super-big portions, which causes weight gain!