Since I am exercising a lot, I'm not usually having  big dinners just not to lose all the efforts!
But La Posta Dinner was something I couldn't miss! It is fine to break the routine once in a while! 🙂
OK so I am gonna mention what did I take, with the pictures for sure!!
I have estimated the calories according to"the  food exchanges".
We took a variety of the  best dishes and we shared it! 😉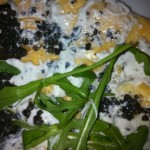 1– Pizza tartuffo: I took one piece:
65 calories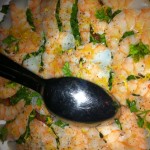 2- Carpaccio crevette: 2 tablespoons
Amazing taste!! 70 calories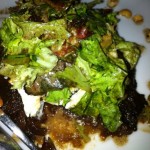 3-  Tintin tomate: 1 tablespoonn
It is a combination of sweet taste with bitter cheese, tossed with almonds!
50 calories
4- gnocchi au gorgonzola: 3 tablespoons
I loved this one!! U need to try tit!
110 calories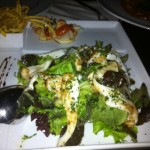 6– Calamari grilles: 2 tablespoons
But i didn't eat the fried chips
     70 calories
Plus: I had 2 glasses of wine rose:  170 calories
The total dinner makes: 535 calories!
So it is fine to enjoy some tasty food, especially if you know to make it up in the coming days!
Don't forget to exercise!
And as I always say:
Moderation is the key!