The "The Sho" Restaurant is located in Monot street. Actually it was my first time there, my friend told me I am gonna love it!
It's a nice cozy place with a nice concept. The menu is written on the wall with a nice design. Smoking is allowed 4 days a week!
Their food is very healthy with a touch of some organic ingredients:)
I made a very healthy and tasty choice, with the waiter's advice for sure!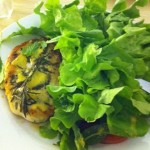 – Poulet farci a la feta cheese: A whole chicken breast, stuffed with the juicy feta cheese and raw walnuts with the taste of this amazing mix of herbs and spices!!!
It comes with a  green salad as a side dish with a mustard/ honey dressing, topped with some exotic fruits like strawberries, pineapples, and apples.
450 calories
My friend took another healthy dish.
– Brochette de crevette caramelise: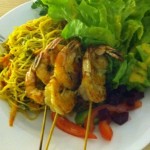 Grilled caramelised shrimps, with Chinese spicy noodles, and a beetroot green salad with mustard/ honey dressing
500 calories
To be honest, I loved it indeed, The food there was really so good! Especially all these herbs combination.
Perfect choice for an early dinner! 😀