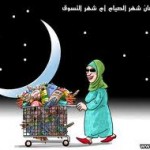 Ramadan is just around the corner! And all muslim people anf friends started to shop for that special occasion!
Fasting alos lnown as "Sawm" is very important to our body! It cleans all our digestive system which  improves blood cholesterol profile, reduces gastric acidity, prevents constipation and other digestive problems at later stages after ramadan. That's for sure if we follow the healthy steps of fasting, which I will discuss in another post 🙂 
The whole month of Ramadan offers as well an excellent opportunity to lose weight, especially by performing light exercise and eating the right kind of food!
But preparing for ramadan, how can we do the best food choices when shopping from our food list!?
I will talk about the food categories that are mostly needed during this period, and will go into details about its intake in another article.
– Meat and Bean Group:
Chicken breast, beef, lamb, fish, tuna, salmon and shrimps,  green pea, chickpea and humus, lentil and all kind of beans! All the above food  list are a good source of lean protein, minerals, and iron, all needed during ramadan. Beans are a good source of dietary fiber as well! 
– Milk Group:
low-fat milk, low-fat yogurt , cottage cheese and white cheeses!  Milk and dairy products are good sources of protein, vitamin D and calcium, which are essential for body tissue maintenance,  physiological functions and bones health.
– Fruits Group:
All fruits and especially citrus fruits are excellent to eat! They facilitate digestion and prevent many gastrointestinal problems. Citrus fruits provide vitamin C. Fruits are a good source of dietary fiber.
Mixed dried fruits,  mixed nuts provide or body with the essential minerals and nutrients!
– Vegetable Group:
Mixed vegetable salad (lettuce, carrot, parsley, cucumber, broccoli, coriander leaves, cauliflower), famous fattouche ingredients or other desired salads.  Buy olive or canola oil or any polyunsaturated oil to use for your dressings, as well as vinegar and mustard. Polyunsaturated fat provides the body with essential fatty acids and keto acids. Cooked vegetables like okra (bamia), eggplant and spinach are no doubt important as well All veggies are a good source of dietary fiber, vitamin A, carotene, lycopene, and other antioxidants. These are helpful in the prevention of cancer, cardiovascular diseases, and many other health problems.
– Bread/Cereal Group:
Whole wheat bread and cereals, oat bread and cooked brown rice.  This group is a good source of complex carbohydrates, which are a good source of energy and provide some protein, minerals, and dietary fiber. They also decrease gastric acidity which is somthing very common during ramadan.
Food, as we all know, becomes the center of attention in this month. So take these precautions to make ramadan better! 🙂