Here is a post of a lunch I had a few days ago in Kuwait 🙂
We decided to go to Leila in Salhiya, as it was the nearest place to us. I guess when eating in such restaurants, you can easily choose some healthy dishes, while still substituting some items and ingredients by others.
And Leila has now some light items, which is great!! 😀
We ordered a variety of food, eggplant was the main ingredient, as we all love it!! 🙂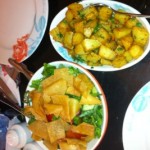 As always, I started with 2 Tablespoons of fattouche, without bread! (50 calories)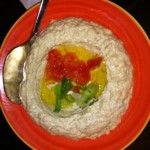 Then I put 1 Tablespoon of moutabbal, 1 Tablespoon of hummus bel tahina ( The best!!) and 1 Tablespoon of potato harra: 130 calories in total.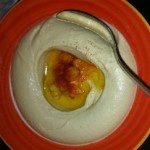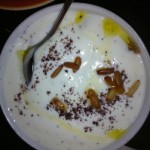 Then I moved to the fatteh eggplant bel laban: That on was chosen from the light items, it has only 270 calories per plate. It is light because eggplants and bread are not fried, while they used the low version of yogurt: 2 Tablespoons: 100 calories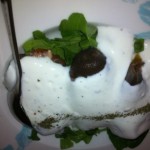 The last plate was eggplant stuffed with rice, topped by yogurt: I only had half one to taste it: 30 calories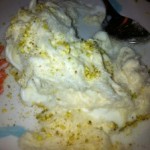 My friends wanted to take for dessert Ghazal Leila (ghazel banat with vanilla ice vream and pistachio) , I only had 1 Tablespoon of that with an espresso!! Yummyy soo tastyy!!! 40 calories
While having my coffee, Marc, the blogger of 2.48 am joined us and he wanted to have lunch.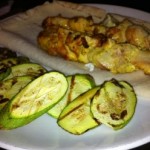 As he lost a lot of weight and still maintaing it, he took the light version of shish taouk, which is marinated with mustard instead of yogurt. The plate usually comes with some potatoes, he removed it as well and replaced it with steamed courgette!!
He told me that he's not eating  a lot of carbs, and prefer to take  high fiber carbs, like brown and multi-cereal bread, brown rice and brown pasta. He even told the waiter not to serve him bread before his lunch as he can't resisit it! Well it's a smart idea! 😉
Now coming back to my lunch, as you noticed I tried many items but in small quantities, which make me satisfieed and not craving for any kind of food.
It made in total 350 calories but everything was healthy and low in fat! 😀