I've already talked about nuts and specifically about Al Rifai nuts varieties! I like a lot how they always talk about the vitamin, antioxidants and fiber present in all their products!
http://www.eatlikemira.com/2010/10/12/al-rifai-energy-mix/
During the month of Ramadan, it is no doubt important to boost your energy by eating those Light Mix and Energy Mix nuts! They are nutrient dense, and packed with  a lot of vitamins and minerals such as potassium, phosphorus, magnesium, copper, Vitamin B12 and B6. All these minerals are needed for our body functions such as regulating body's fluid balance (which is needed after the long hours of fasting), build bones and teeth, repair body's cells and metabolic process!
What I am talking about exactly??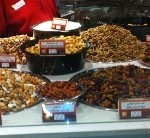 The Energy mix nuts!!  This is a combination of pistachio, almonds, walnuts, cashew, dates, apricots, coconut, strawberries and cranberries packed with all the essential nutrients that will help you in boosting your energy after a long day of fasting!!
These energy mix nuts are also considered as antioxidants which protect us from any kind of cancer!
Apricots, dates, strawberries and cranberries are a good source of antioxidants!
Walnuts, coconut cubes, pistachio and almonds are the main nuts packed with fiber! Fiber is needed especially during Ramadan as fasting can cause indigestion, bloating and constipation!
The Light mix nuts!! Those are another variety of healthy nuts. They contain 18 amino acids which are building blocks that make up protein in our body. They play a vital role in the repair and maintenance of a healthy body!
Goji berries, almonds, cranberries, raisins and pumpkin seeds are the main nuts of this category! They are full of potassium, zinc, iron and copper needed to regulate the fluid loss experienced during Ramadan!
Nuts in general are and excellent source of Omega-3 that regulates your triglycerides and cholesterol blood levels!
In Kuwait city, you can find an extremely well designed stand of all the Rifai nuts at Sultan Center!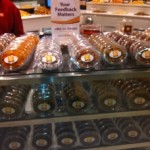 You can also find amar el dine, nougat and dried figs.
 And the buyer is always there for you to advice you about all the benefits of different varieties!
Innocent nuts from Al Rifai are also the number one snack, guilt- free! That's why they are so called innocent!
http://www.eatlikemira.com/2012/03/05/innocent-nuts/
Go Nuts!!! Go Healthy!!