This is also another kind of food I've been munching on recently!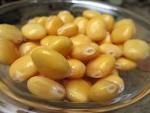 Lupins are known as Tormoss and they are best eaten with a bit of salt!!! 🙂
Lupins are an excellent source of bio-active compounds  associated with protection against cancer and reducing blood cholesterol levels! Plus they taste great!!
let's have a deep look into Lupins' health benefits!
Lupins are a member of the legume family and are known to be high in fiber and protein and very low in starch so it is ideal for people who need a gluten- free diet!
Lupins are very low in fat so it is very suitable for weight control!
They're great against heart disease as well as great for those who have diabetes and also they have satiety properties!
If you eat lupin you become fuller for longer and subsequently eat less at the next meal.
 Lupins are a excellent alternative to soya! Even healthier and richer in proteins!
NUTRIONAL FATCS!!
1 cup of boiled lupins has 120 calories, 4 grams of fat, 4 grams of fiber and 25 grams of proteins which is 52 % of the serving size!
I personally like to much on lupins at night while watching TV, instead of eating nuts,chips or seeds for example! 😀
WHAT ABOUT YOU GUYS??