I was on the beach a few days ago, and my friends wanted to order sangria as it is refreshing in hot weather!!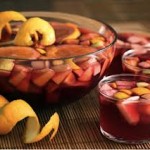 BUT!!! Even though Sangria is an alcoholic drink, it does provide many health benefits, mainly from its high vitamin content!!
What is Sangria???
It is a Spanish drink  and is usually a combination of red wine, fruit juice, chopped fruits combination like green apple, cranberries, raspberries and rum.
Some people can even drink it without the alcohol, and it still tastes great!!
Calories in sangria vary based on the types of alcohol you use. 1 glass  can have around 150 calories. Calories in sangria come from sugars, even if fresh fruits are used.
All the fruits used to make the Sangria can be count as a detox for our digestive system, of course if no alcohol is added. Cranberries, green apples and raspberries are sodium- free, fat- free and work perfectly well to clean the liver and the colon to prevent constipation problems. They also fight against kidney stones diseases!
How to make a non alcoholic Sangria???
4 cups cranberry-grape juice
1 cup orange juice
1/4 cup fresh lemon juice
1 pear, diced
1 apple, diced
3 cups carbonated lemon-lime beverage
In a large pitcher, combine cranberry-grape juice, orange juice, fresh lemon juice, diced pear, and diced apple.
Refrigerate for a least 2 hours.
Just before serving, stir in the lemon-lime soda and some ice.
An excellent refreshing fruit drink!!!