Almonds have a reputation for being a filling and nutritious snack.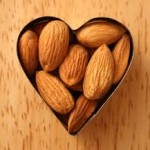 The study published in the American Journal Of Clinical Nutrition found those who chew 30 g  of almonds a day and for a longer time got very good blood tests results:
Blood tests confirmed higher levels of appetite and lower triglyceride levels in blood.
In fact, almonds are rich in unsaturated fatty acids ( the good fat), and is known in decreasing Triglycerides levels in blood.
Almonds are so helpful for people trying to lose weight. They suppress appetite and hunger by 25 %.
Chewing almonds may increase the body's absorption of unsaturated fat and suppress hunger for longer periods of time, conclude findings from Purdue University researchers.
The longer you chew on almonds, the fuller you will be and the more good fats your body will absorb.
Keep in mind, 3 to 4 raw almonds have 45 calories.
SO…
Take a break and get 4 raw almonds daily as a snack  between your main meals.
You can also keep it in water so they become softer! My Favorite!!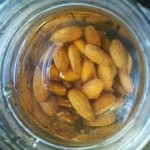 Chew almonds slowly but for a longer time… and… Let your body absorb all the benefits!
Now that's a delicious and enjoyable way to stay fit and enjoy  your diet!! 🙂