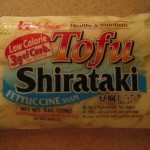 Those calorie -Free 'Miracle Noodles' Are The Latest Diet Craze!!
This latest diet-food craze is being used as a replacement for traditional noodles and rice in some American homes, but originally came from Japan. They are called Shirataki.
They are made from a plant found in Asia that is ground and made into a gelatin like substance.
These calorie- free noodles are found in many shapes like fettuccini, angel hair or regular noodles shape! And the cool thing about it is that they don't need to be cooked, just rinse it and make it hot!!
These noodles are extremely high in fiber, fill you up and fight against constipation problems!! But be careful about the portion you eat as they are extremely high in fiber and may cause stomach pain if highly consumed.
It can be  a smart substitution for regular pasta and so would help lower the glycemic index of a meal, which is very important for diabetics!
These Miracle noodles are vitamins and minerals free, so it is better if you can mix it with some cooked veggies, to provide your body with the essential vitamins and nutrients needed.
They don't taste like wheat noodles or grain pasta. In fact, those noodles have virtually no taste at all! So you can also mix it  with some cheese to get a better taste or you can spice it up!  😉
Miracle Noodle contain Zero Net Carbohydrates, Zero Calories, No Gluten, No Soy!!
http://www.miraclenoodle.com/default5.aspx?utm_expid=1948735-39.JYu7wBtJSjWcgZTa33CpJA.1&utm_referrer=http%3A%2F%2Fwww.shareasale.com%2Fr.cfm%3Fb%3D311090%26u%3D314743%26m%3D33004%26afftrack%3Dskim35871X943606Xfdc1d52d393579093511f5afed5883c7%26urllink%3Dwww.miraclenoodle.com%252Fdefault.aspx
You can order it online from the state, and it can be delivered door to door for only 3 $ per bag!
http://www.iherb.com/search?sug=shirataki%20noodles&kw=shirataki%20&rank=3#p=1