That's another kind of digestive that fulfills my cravings for sweet!
It is the sugar-free digestive from Santiveri!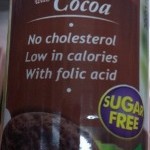 Here I am talking about the chocolate Santiveri Sugar- free! 🙂
It's ingredients:
Whole wheat flour, sweeteners ( Sucralolse and Maltitol), non-hydrogenated vegetable oil, cocoa paste from dark chocolate, oat flour and folic acid.
It is an essential part of a healthy diet. Lack of this important vitamin can lead to a lot of problems!
http://www.eatlikemira.com/2012/03/09/folic-acidbut-for-what-exactly/
So as you noticed It is rich in Folic Acid unlike other biscuits, is cholesterol- free and is low in calories!
Actually one biscuit gives you only 38 calories!
The Santiveri digestive, sugar- free is also available in blueberry and regular wheat flavor 🙂