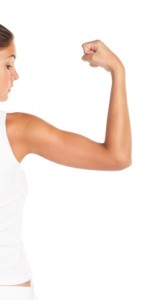 I talked before about the best ABS Workout, now here is a new video that will make you tone your arms in just 5 minutes everyday!
It is nothing, only 5 minutes a day! why not? it's so easy.
Don't forget that besides exercise, you need to follow a healthy diet, low in fat, for you to build muscles. Don't workout then reward yourself with an ice cream or a burger for example! This can be useless.
Just get 2 Dumbbells and start by 1.5 kg for each if you are a beginner then increase the weight gradually.
Follow the video here!