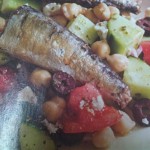 It might be weird for you!
I saw this Greek salad recently and never tried any kind of protein with this salad before, so I said let me try it!
Sardines are one of the richest sources of omega-3 fatty acids, specifically DHA and EPA, linked with mental health. Omega-3 is a great remedy for heart diseases, depression and promoting healthy brain development..
Sardines: 1, 95 mg omega3/ 100g
Back to our salad, the fresh elements of Greek salad, tomato, cucumber, feta cheese, olives and lemony vinaigrette pair well with rich tasting sardines.
PS:
Look for sardines with skin and bones as they have more than 4 times the amount of calcium as skinless and boneless sardines.
This salad makes 4 servings, with 2 cups per serving
Ingredients:
3 tablespoons lemon juice
1 tablespoon olive oil
1 clove of garlic, minced
2 tablespoons dried oregano
½ teaspoon black pepper
3 tablespoons boiled chickpeas
3 medium tomatoes cut in medium pieces
1 large cucumber cut in small pieces
1 teaspoon thinly sliced onions
2 tablespoons sliced olives
15 low-fat feta cheese cubes
2 cans of sardines with bones, packed in olive oil but well washed or packed in water
preparation:
– Whisk lemon juice, olive oil, garlic, oregano and pepper in a large bowl until well combined.
– Add tomatoes, cucumbers, feta cheese and olives.
– Toss to combine
– Top the salad with sardines
Per serving: 2 cups
320 calories, 15 grams of unsaturated fat, 25 grams of carbohydrates, 20grams of proteins and 7grams of fiber.
To make this same salad for 2, just halve all the ingredients, and prepare as directed.
Bon appetit! 😀