This is an example of a random home  dinner I had a few days ago..
I mentioned in a previous post that I love the green bean salad.
It's been long time that I didn't have it, that's why this salad had a place in my dinner! 😀
The dressing was made of lemon, garlic and olive oil.
Calories are calculated based on the food exchange list.
Green bean salad: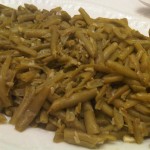 I had 3 Tbsp: 1 fat exchange: 45 calories
The second salad was typically Lebanese:
Tabbouleh: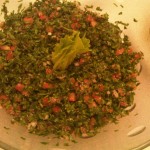 I had 3 Tbsp:
1 carbohydrate + 1 fat: 125 calories
My friend prepared kafta with potato and tomatoes cooked in the oven.
As I don't eat meat at all, I only took: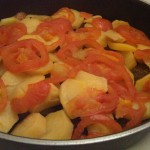 5 pieces of potatoes: 1 carbohydrate: 80 calories
My main dish was some steamed rice with boneless chicken breast, and roasted pine seeds and almonds… Delicious!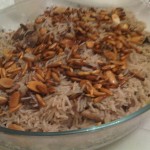 3 Tbsp:
1 carbohydrate + 1 protein+ 1/2  fat: 157 calories
The main dinner made 407 calories, not bad for an early dinner 😉