I've mentioned a lot in this blog foods that I eat from Casper & Gambini!
Actually I love this restaurant, I got used to its food and menu (good food portions and great quality)! And everytime I wanna order from other restaurants, I just go back to Casper!
Yesterday I ordered for dinner the Slim- Line chicken salad! I'm a big fan of salads! 😀
It was  very consistent, low in fat and tasty at the same time!
Ingredients:
Iceberg lettuce
Raw sliced carrots
Fresh cut tomatoes
Corn
Cut cucumber
Shredded mozarella cheese (low-fat)
Marinated lean chicken breast
Croutons
And that's it!!
The dressing:
Light mayo and lemon sauce, I took half of it…
If we wanna talk about calories,  according to the food exchange list this salad can be counted as :
 2 exchanges of carbohydrates = 160 calories
1 exhange of fat: 45 calories  (1/2 the portion)
4 exchanges of lean protein: 220 calories
Total calorie intake: 425 calories.
And surely it's a great choice for people having cholesterol or constipation problems! 😉
Here are the pictures: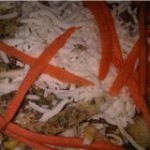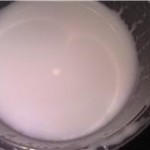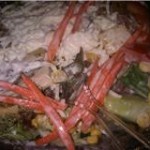 TRY IT !!