Every meal should be finished off with a delicious dessert! But  after the calories you've just had, you want your dessert to be low in  fat, but still delicious 😀 
Are you a fan of fruits and yogurt??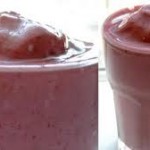 This dessert recipe not only tastes great, but each portion has only:
 125 calories and  1 gram of fat!
Ingredients: Makes 4 portions.
Passion fruit : 2  (cut in half, so 4 halves)
Strawberries :  300 grams, about 20 medium pieces.
Peaches : 2 chopped
Sweetener: 2 teaspoons (optional)
Low- fat frozen yogurt:  almost 8 scoops (350 grams)
Preparations:
– Puree all  the strawberries (leave a few  for decoration). then take half  of the puree.
  – Scoop out the passion fruit pulp and add it to the  first haf of the strawberry sauce. You can add  sugar to it  if needed. Place it on the side
– Place the other half of the strawberry puree and the chopped peaches in 4 cups
 – Add 2 scoops of yogurt to each cup, topped with the few remaining strawberries.
– Pour the rest of the strawberry/ pasion fruit mixture puree at the end and serve.
That's what I can call a delicious, low- fat, and easy to make dessert! 😉