I was at Sultan center yesterday  to do the usual weekly shopping:)
And  while walking I saw a lady  promoting a new organic Milk. She came to me and was telling me about the product..
It is the Yeo Valley, a new organic milk… I tasted a very little quantity  and it tasted good!
But unfortunately it does have lactose and I am not having milk containing lactose right now.
But I was curious to know what are the major differences between it and the regular milk.
So she explained it to me:
Yeo Valley  organic milk has 70 %  more omega-3 and 30 %  more calcium. plus It is Organic so 100 % natural and of course heathier!
Low-fat milk or semi skimmed milk: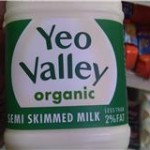 the whole box contains 250 ml. 
 Per 100 ml:
 47 calories, 1.8 grams of fat, 124 mg of calcium
Per 100 ml:
68 calories, 4 grams of fat and 122 mg of calcium
Milk lovers!! Now you can go organic and live healthier!
give it a try and tell me what do you think about it as taste and digestive comfort 😉