It was Yesterday on Tuesday May 17th!  😀
MY FRIENDS BOOKED IN SIGNOR SASSI, THE FAMOUS ITALIAN RESTAURANT!
And this is what I got! 🙂
–  They ususally serve black olives with Parmesan cheese slices at the table so I took a whole plate.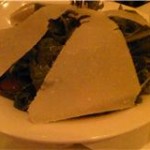 – Rocca and parmesan salad, with balsamic vinegar
– Bongolai Pasta: it is mixed with mussels and oysters, with only 120 calories per serving!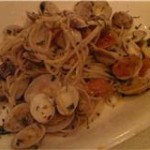 These items are really low in fat, but a bit salty! Well… It's my birthday at the end! 😉
And after all I tried as much as I can to pick the most healthier choices for the whole table!
And this comes unconsciously! LOLL
Finally the birthday cake! it was kind of a surprise with all the restaurant team coming over the table! lloll…

So I took my part! 🙂