As I mentionned before carribou coffee has launched  the Northern Lite Coffee Cooler, which is a light version of  coffee frappucino, and has only 80 calories.
http://www.eatlikemira.com/2011/05/27/northern-lite-coffee-cooler/
Now starbucks has launched the Mocca Light, which,  as the name says is also a light version of Mocca Frappucino.
It has: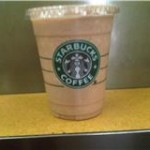 – low- sugar mocca frappucino syrup
– Skim milk
– Coffee
Unlike Carribou, The calories are not calculated But as I estimated,  it has almost 110 calories, while the normal one has no less than 150 calories.
I tasted it today and yea it is really soo light, you can feel it! 😉