Peptic Ulcer is common among people.. And I've discussed in an older post how to treat it or avoid it through good and healthy way of eating.
http://www.eatlikemira.com/2010/04/06/nutrition-for-peptic-ulcer/
But now let's answer this question: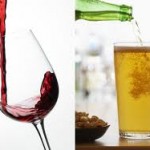 Are beer and wine allowed when suffering from peptic ulcer or heartburn??
Stomach Ulcer is caused by a kind of bacteria known as  Helicobacter pylori or H. pylori for short.
This Study is taken from the WebMD:
Liam J. Murray, MD, Queens University of Belfast, U.K., and colleagues tested 10,537 people for H. pylori infection. They also asked them how much alcohol and coffee they drank and how much they smoked.
Results indicated that consumption of moderate amounts of alcohol in the form of red wine, beer or cider may protect against H. pylori infection," the researchers report in The American Journal of Gastroenterology."
– Those who drank 3 to 6 weekly glasses of red wine had 11% fewer H. pylori infections. Drinking more than six glasses per week decreased infections by only 6%.
– Drinking 2 to 4 beers also dropped H. pylori infections by 11%.
5 to 6 beers weekly dropped risk by only 6%  but those who drank more beer than this didn't see any protection at all.
So 3 glasses of red wine or beer/week were associated in reduction of the infection, but drinking more than this quantity showed less effect on the infection!
Researchers found that beer and wine are rich in compounds with antibacterial activity ( protect against the H. pylori bacteria) regardless   their alcohol content.
The South and West Regional Research and Development Directorate and GlaxoSmithKline UK funded this study.