As mentionned in my blog, Atkins Products are available at Eat Like Mira clinic, which are based on delicious, low-carbs whole foods!
Atkins products vary from sweets, cereals, milkshakes and other tasty & low- carbs foods.
You can check Atkins website here: http://www.atkins.com/Products/Product-Overview.aspx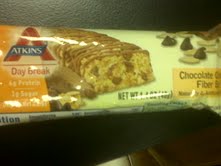 And this is what I tried yesterday! I was craving for a sweet  taste, so I got the chocolate oatmeal fiber bar!
It's from the "Day Break" Category, that means it is perfect as a snack, especially before any workout!
The bar has only 6 grams of protein, 1 gram of sugar and only 7 grams of net carbs!
It contains in total 130 calories, 10 grams of fiber, and only 5 grams of fat! 😀