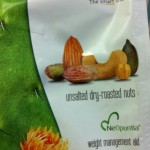 Innocent nuts from Al Rifai are the number one snack, guilt- free! That's why they are so called innocent! And that's why I got them now into my clinic! 😀
Al Rifai innocent are a mixed of unsalted dry- roasted nuts (brazilian nuts, cashew,  pumpkin seeds, almonds and walnuts) coated with a substance called Neopuntia,which is a fat binding product made of 100 % natural leaves of a cactus called Opuntia, which is able to absorb 28.3 % of total fatty acids during 4 hours, and so is able to reduce body fat and weight as well as blood cholesterol levels!
How does Neopuntia work effectivley??
Neopuntia is a natural fiber complex, it is specifically designed to block dietary fats found in the stomach after a heavy meal. It is added to these mixed nuts, thus preventing all the fat present in them! 30 percent of those fat are not absorbed making it a healthy and guilt-free nuts!
Innocent nuts are able to decrease the absorption of fatty food, and so it is advisable to take after a heavy meal as well!
According to a clinical  pilot study, 1 gram of neopuntia can absorb 9 grams of olive oil. 19 grams of mayonnaise or 11 grams of butter!
Nuts are loaded with omega-3 and with protein! They are excellent to lower triglycerides levels!
One bag (100 grams) of innocent nuts contain 9 grams of fiber and 200 calories only!!
Enjoy it as a snack between your meals, and surely with guilt-free!!