Believe or not it is the first time that I go to Margherita restaurant  although all my friends went already and told me it is soo good!
Actually I am not into Italian cuisine 😉
I've tried once the branch in Gemmayze but for only a couple of drinks 🙂
I went to Sin- el- Fil branch which is a beautiful open space restaurant, so different from the one in Gemmayze.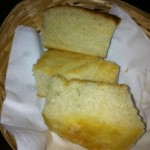 First, they serve you the carpaccio bread  as a starter with some butter.
I took a quarter of the bread as I have an intolerance to wheat bread!
I ordered a salmon caesar salad, with extra Parmesan cheese for sure!
http://www.eatlikemira.com/2011/02/08/parmesan-cheese-lovers/
(never tried that before!)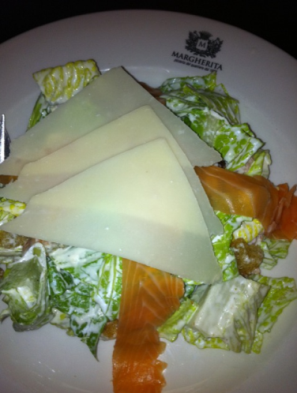 It might be weird to be in an italian restaurant and not to order pasta or pizza, I know, but I really love this salad and don't mind having it everytime I go out! 🙂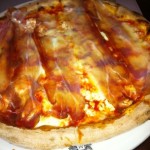 My friend took the rustica pizza, which consists of goat cheese, mozzarella cheese, speck (jambon).
I am not a fan of pizza!
And my diner intake was about: 420 calories! 😀