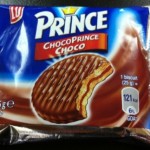 For those who didn't try choco prince biscuit yet! It is simply a succulent biscuit filled with chocolate and milk!
 For choco prince  lovers!! And I'm one of them! 😉
Good news!!!!!
There are only 121 calories in this 25 grams of  biscuit!
 And to break down the calories: 39 % fat, 56 % carbs and 5 % protein!
Choco prince can be taken as a snack in the afternoon and can be a smart option when craving for chocolate!! 😉
 Choco prince  is not recommended for people who suffer from high cholesterol level or blood sugar level  as it contains sugar and butter and can  worsen their health case.
Instead it is more advisable to stick  to fruits or sugar-free chocolate from time to time 🙂