This is a random lunch I had at home!
We prepared a variety of food choices!
But have a look at the quantity and quality of food I took!
1- Boiled Shrimps with cocktail sauce: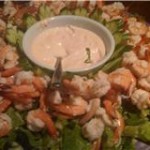 This is the favorite seafood dish I like to have at home!!
I took 15 pieces! and a bit of the sauce
1 exchange of lean protein + 1/2 exchange of fat:77 calories
2- Rocca, Parmesan salad with walnuts and balsamic vinegar: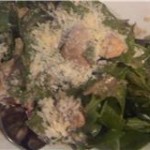 3 Tablespoons: 1 fat + 1/2 lean protein: 73 calories
3- Loubieh in olive oil: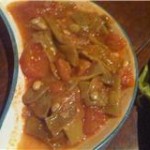 I love it! I took some without bread.
2 tablespoons: 1 exchange of fat: 45 calories.
4- Hummus bel tahineh: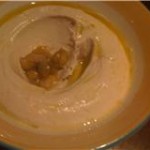 3 tablespoons + lettuce leaves:
1 Carbohydrate + 1 fat: 125 calories
5- Fish sayadieh: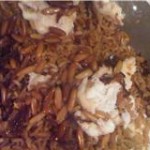 I am not a big fan of rice, but this specific dish doesn't taste good without it!! 
2 tablespoons of rice + 3 small fish fillet + roasted nuts:
1 CHO + 1 lean protein +1 fat: 180 calories
My lunch makes 500 calories.
This is the usual daily calories a person must take for lunch..
Just notice how you can try a variety of food with the least calories taken… It is a matter of choice!