I want to share with  you a Lunch I had a yesterday at the office! I ordered it from our diet catering!
I was eating a lot of fish lately (my favorite kind of protein!) I thought of changing a bit and so I went to the chicken choice!
Usually we have 3 kinds of lunch options everyday,  they differ from meat to chicken or fish to vegetarian dishes!
I took the chicken sweet and sour,  but replaced the sweet corn by some steamed carrots, as I am intolerant to corn!
Medium portion, has in total: 400 calories, fulfilling and very tasty!!!
Then I took the light muhallabieh, made of fructose, the fruit sugar, suitable for diabets a well!
It has a total of 50 calories!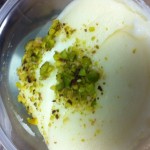 It is rich in calcim and Vitamin D, a perfect snack for your health bones!
My lunch makes a total of 450 calories! Perfect for a busy day!!
Then in a few hours I am heading to the gym for 70 minutes of tough tae bo!!