I was invited for a dinner at my friend's house a couple of days ago. I knew she was going to prepare delicious food as she cooks really good! I was watching my portions throughout the day, so I can enjoy my dinner!  🙂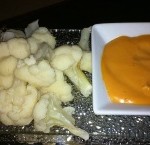 As a start, we had some appetizers while having a drink (I had only a diet sprite), so I had 2 pieces of boiled cauliflower with a light cocktail sauce (mustard, light mayo andd ketchup mixed together): 30 calories
She put some nuts and almonds but I didn't touch it (useless calories before dinner).
It was a buffet so I just need to choose from the varieties.
Below were the food choices that were on the table:
Tabbouleh, Hummus bel tahina, Moutabal, Loubieh bel zeit, Rice and chicken with cashew nuts and Cannelloni.
Well honestly I didn't know from where to start, and I like everything here!
–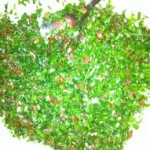 1 Tablespoon of Tabbouleh: 50 calories (due to burghul and olive oil)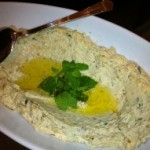 – 2 Tablespoons of moutabal: 40 calories (moutabal has less  calories than hummus, it only has eggplants which is considered as a free food and tahina which is considered as fat, while hummus bel tahina is considered as carbohydrates and fat).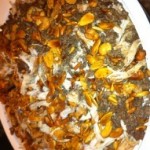 – 3 tablespoons of rice and chicken with cashew nuts roasted and not fried (I tried to take the upper part of the plate which gives more chicken, coz I'm not a fan of rice!): 170 calories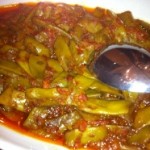 – 1 Tablespoon of  loubieh bel zeit: 50 calories
I didn't eat Bread with any of the dishes!
I didn't try the Cannelloni, It is a heavy dish at night, won't be able to digest it very well. So I tried small portions of different kinds of food instead.
Food was tasty, calories were good!
My dinner makes 340 calories 😀