I've already wrote an article about a dinner  I had at La Posta, Beirut, one of the best Italian restaurants in Lebanon.
http://www.eatlikemira.com/2012/03/12/dinner-at-la-posta/
I had dinner again last night there. It was a late one, some people were fasting so you can say it was a kind of Suhoor and dinner 🙂
Personally I'm not a fan of pasta! And I barely eat red meat, so I went for the seafood option!
First I started by one olive bread! Love it!!: 80 calories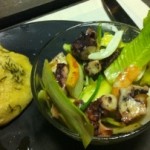 Then I moved to the Salad de Fruit de Mer a la Venitienne: It was a combination of fresh calamari, boiled shrimps, octopus, avocado, asperges, and lettuce.
Dressing: olive oil and lemon
On the side comes a piece of white bread, tossed with herbs. It has a really different flavor and aroma!
300 calories
Another good salad you can try: Chevre salad or the Goat cheese salad.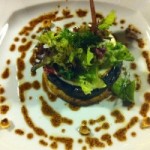 Small but very good one!! 220 calories
My sister had it!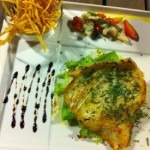 And finally we shared the grilled calamari plate: I didn't have the fries
One big grilled calamari tossed with herbs, with fresh boiled calamari on the side!
Half portion: 200 calories (with no fries)
TOTAL DINNER: 580 CALORIES!
It was really a great tasty dinner! Great company and good food!!