Cream of corn soup, from Knor!! This is what I had for dinner last night!!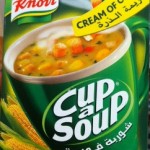 It is creamy, but it's light  and has less calories than other common soups!
Every box has 4 sachets, with only 80 calories per sachet!
How to prepare it??
Just mix what's inside the sachet with hot water, and…It's READY!
Corn is a low-fat complex carbohydrate  that deserves a a big place on any healthy table. These high-fiber fight against body fat, are hearty and extremely satisfying. Corn is a surprising source of several vitamins,including folic acid (needed by pregnant and anemic people), niacin, and vitamin C.
Personally I had yesterday 2 sachets mixed together in a big mug! Delicious!
calories: 160 calories!
1 sachet has: 1.2 g of protein, 13.2g of carbs, 2.6 g of fat, 0.3 g of fiber, 0.5 g of sodium and 81 calories!
You can also find different flavors like cream of mushroom, cream of chicken, cream of asparagus and so on…
Just choose your favorite flavor!! 😀