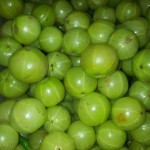 First time to hear about Goosberry fruit??
Goosberries look similar to grapes but bigger in size, they are actually berries filled with tiny seeds. The  fruit, which can be green, white or red, provide many nutrients
Originally from India, also known as Alma, Gooseberry is the richest known natural source of Vitamin C.
Amla also contains antioxidant, anti-inflammatory, antibacterial and immune-enhancing properties and is widely used in different medicines. For centuries, the countless health benefits of Amla have effectively been used to treat minor to major health problems.
One cup of fresh gooseberries contains 41.5mg of vitamin C. Vitamin C is  necessary for your body to absorb iron, and it also aids the formation of  collagen. You also need plenty of vitamin C to help you maintain healthy bones,  muscles, cartilage and blood vessel
According to the Harvard School of Public Health, the average adult diet  requires at least 20g of fiber per day,One cup of fresh gooseberries supplies 6.5g of dietary fiber.
Following nutrients are present in Indian Gooseberry:
Vitamin C
Iron
Phosphorus
Carotene
Vitamin B Complex
Carbohydrates
Dietary Fiber
It has been found to be low cholesterol, sodium and saturated fats
How to eat Goosberry??
Eat the gooseberries as is!!
Take a bite of it then drink a sip of water… Water will be flavored and gives you a sweet taste to your mouth!
It is the best way to be encouraged for drinking more water. It is a great idea for children who don't like plain water taste! 😀
why??
Initially, Amla tastes sour. This sensation, among other things, is due to protons. When we drink water, the protons are washed away but the taste buds will probably take some time to return to its initial form, which gives a sensation of a brief sweet taste:)
3 pieces (150 g) contain 60 calories, equivalent to 1 exchange of fruit!
Adding gooseberries to your diet can be a challenge because they are not readily available in supermarkets, but including it  into your  diet can have many health benefits!
Exclusively found in "Prime Bites" diet center Menu (Kuwait), to always offer you  the best for your health!