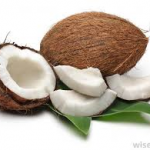 Coconut is known as the Tree of Life!
Coconut is one of those food that seem to fluctuate between the 'good food' and 'bad food' list, and if you're confused about this, no worries! Coz even the experts are!!
Both the American Heart Association and the National Heart Foundation recommend avoiding the use of coconut oil for cooking, as it is high in saturated fat and increase blood cholesterol! And that's how the confusion about coconut fruit came up!
FACTS!
No doubt, coconut is very high in fat. The U.S. Department of Agriculture states that 1 cup of raw coconut contains roughly 24 g of saturated fat. With this high fat content, raw coconut is also a very high-calorie food, with 283 calories per cup, says the USDA.
Here are the nutritional facts of one piece of raw coconut (45 grams):
Serving size: 45 g
Calories: 159, and calories from fat: 126
Total fat: 15 grams, and saturated fat: 13 grams
Cholesterol: 0 mg
Dietary fat: 4 grams
Coconut is high in fiber, Vitamin B, Iron and Zinc. 
So As you noticed, coconut fruit is free of cholesterol, but contains high amount of saturated fat which increases LDL level and thus increases blood cholesterol level!
And any high-calorie food can lead to weight and fat gain if not counted into your overall daily calorie intake and physical activity regimen.
HOWEVER!!
Coconut water is naturally:
– Low in carbs
– 99 % fat-free!
– low in sugars
– High in potassium, magnesium and chlorides
Opposite to the fruit, coconut water is a natural and nutritious drink that  prevents the formation of atherosclerosis!!
Coconut fruit (not its water) is generally considered a food that should be enjoyed in moderation, especially if you are trying to lose or maintain your weight .