Strawberries are one of the most popular berries that are sweet, delicious and nutrient rich at the same time.
Besides being delicious, strawberries are so rich in vitamin C, and antioxidants that fight free radicals.  Free radicals are elements that can damage cells, and they are thought to contribute to the formation of many kinds of cancer.
Strawberries are 60 % water, so perfect to flush  all toxins out of the body! And is so rich as well in fiber, and this is because of its seeds!!  
THAT'S NOT ALL!!
In addition to vitamin C, strawberries also provide an excellent source of vitamin K and manganese, as well as  potassium, riboflavin, vitamin B5, vitamin B6, copper and magnesium 
Strawberry is a rich source of folic acid, folic acid helps to prevent or reduce birth defects! It is also recommended for people suffering from  liver diseases,  rheumatism, constipation, high blood pressure,  and even skin cancer.
20 strawberries have only 60 calories and are counted as one exchange of fruit!
So many uses!!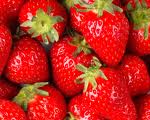 – Eat strawberries whole or cut in fresh fruit salads.
– Cut strawberries and add them into yogurts, cereals or ice-cream.
– Use strawberries to decorate your cakes or tarts.
– Blend strawberries with low-fat milk and get a smoothie sweet drink.
– Use strawberries to make tasty jams and sauces.
– Add strawberries to your salads and enjoy the exotic taste of it!
Try the strawberry whip!   I LOVE  IT! 😀
Strawberry whip: For one person

Ingredients:
3/4 cup  cold skim milk
1/2 cup fresh strawberries (around 10 small pieces) but cut in 1/2 pieces
Sweeteners depending on your taste, but I put 2 teaspoons.. I like the sweet taste 😀 
Instructions:
In medium bowl, with an electric beater, whip milk for about 1 minute.
 Add strawberries and sugar.
Whip another 30 seconds, then pour it into a tall glass!
(you can put it in the fridge for a bit until it becomes veryyy cold!)
Per serving: About 100 cal, 7 g pro, 15 g carbs, 1 g fat, 3 g fiber.
Strawberries are naturally high in vitamins and minerals, naturally sweet, easy to find, easy to prepare and extra low in calories!
So what are you waiting for?? 😉