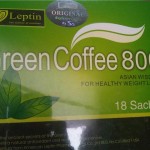 Few days ago, one of my clients showed me a product that she wanted to try. Her friends used it. Some of them got positive results and others did not!
So she showed me the Green Coffee 800, and she wanted  my opinion about it.
I directly said NO NEED for that! I am so against anything that works artificially to make us lose weight.
Then I saw the word Leptin, and "drug-free", so I was curious to read it then to try it just to see its results! 😀
Actually Leptin and Grehlin are 2 hormones responsible of controlling our appetite. Leptin gives us the feeling of satiety and grehlin the feeling of hunger.
The box contains 18 small sachets, and it said to be used for 18 days.
The sachet, once added to hot water looks like a nescafe, and its taste is not bad. I tried it an hour after my breakfast and … 20 MINUTES LATER, I was STARVING!!!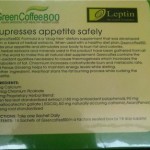 It is written that this product controls appetite, increases metabolism, by increasing the thermogenesis (energy needed for digestion of foods) which is responsible of the metabolism of fat.
Then I checked their website, and I knew that this product was not approved by the FDA (Food And Drug Administration) .
http://www.diet-green-coffee-800.com/LeptinGreenCoffee800.html
So this is a message for you guys! DO NOT take any kind of appetite suppressant or diet pills that increase metabolism unless you ask your expert about it!
Diet pills are not for everyone!! They might be harmful and cause strokes or heart attacks!
Read more about diet pills here!!
https://www.eatlikemira.com/2010/01/30/what%e2%80%99s-behind-diet-pills/