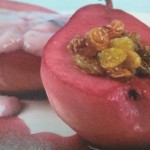 Pears have such a delicate flavor. Their combination with red wine gives high amounts of antioxidants, good enough to prevent aging, cancer and heart diseases!
In addition to that combination, yogurt and red wine provide phytoestrogens which have the potential to reduce breast cancer, prostate cancer and cardiovascular disease risks, and protect against osteoporosis (bone loss) and menopausal symptoms.
This dessert is really tasty, might be used as afternoon snack, super healthy for 260 calories!
Serves: 4
Ingredients:
2 tablespoons raisins
1 tablespoon cider vinegar
1 lemon
4 large firm pears
1 ½ cup red wine
3 tablespoons honey
1 cinnamon stick
Low- fat yogurt, for serving
Preparation:
1-
At least 2 hours before you cook the pears, put the raisins in small bowl and pour over the vinegar, the juice of half the lemon. Then toss to mix.
2-
Peel the pears and halve them, then scoop out the cores.
3-
Pour the red wine into a saucepan, but let it be big enough to hold the pear halves (8 halves)
4-
Heat gently and stir in the honey, cinnamon, and 3 tablespoons of the remaining lemon juice.
5-
5 minutes later, put the pears into the liquid; keep it for 10 minutes, turning the pears from time to time, until they become tender but still quite firm.
6-
Remove the pears to a serving dish, and strain the liquid
7-
When the pears are cool enough, stuff their middle with the raisins.
8-
Reassemble with the other matching pear half and wrap it with a waxed paper. Then put the liquid and the wrapped pear in the fridge for 2 hours.
9-
To serve, unwrap the package, and pour some yogurt with a couple of spoonfuls of the remaining liquid.
Per serving: 1 pear or 2 halves
Calories: 260
Total fat: 0
Cholesterol: 0
Carbohydrates: 55g
Fiber: 7g
Protein: 2g
Enjoy it !!! 😉