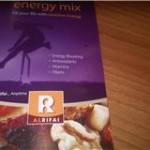 Yesterday, I was in Al Rifai to get some raw and dry nuts that I love to take with me to the office and snack on!
So I saw this mixture of nuts which they called it the : Energy Mix"
And the slogan for it was : "Fill your life with positive energy".
WHAT IS IT EXACTLY??
It is a mixture of raw almonds, walnuts, cashews, dates, apricots, strawberries and cranberries, coconut cubes, pistachios.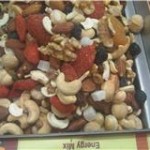 Actually this mixture is fully packed with all the essential and needed minerals and vitamins.
It is a remedy for triglycerides and cholesterol. It works really good in increasing HDL levels and decreasing LDL levels.This mixture is rich in vitamins A, B, C, E and K. These vitamins play a major role in keeping skin and nerves healthy. Plus they are needed for our eyesight, so for a clear and proper vision.
The vitamin E is known to prevent cardiovascular diseases and many kinds of cancer.
This mixture is fully packed with antioxidants which protect the cells from free radical damages. Antioxidants is proved to prevent any kind of cancer!!
This mixture is also a great source of fiber. And fiber is essential in our diet! It decreases fat absorption from food, prevents constipation and colon problems…
Because of all these excellent nutrients, we can say that this Energy Mix is a great snack to have at anytime!
You can enjoy it before or after gym time, as an afternoon snack, in the morning by adding it to your cereals, or even you can give it as a snack to your kids at school!
Eating this mix will boost your metabolism and energy levels, repair your body cells and your body metabolism!
ENJOY IT!
and….
FILL YOUR LIFE WITH POSITIVE ENERGY! 😀