I think this is a great idea!!
Now there's this new White Bean Salad with Tuna! Ready to serve directly!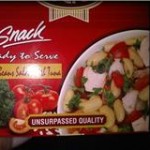 Tuna is an excellent source of omega-3 fatty acid  (good fat) which helps maintain brain, eye and heart health
http://www.eatlikemira.com/2010/02/14/tuna/
The ingredients of this salad are: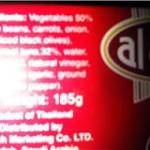 White beans, carrots, onions, sliced black olives, light tuna in water, natural vinegar, olive oil and black pepper.
They mentionned  that you can have this salad  as a snack… But also you can have it as a light dinner!
The salad can be counted it as:
1/2 exchange of Carbohydrates: 40 calories
1 exchange of fat: 45 calories
2 exchanges of very lean protein: 70 calories
So the salad has in total: 155 calories.
Its name is Al Alali white bean salad with tuna.
Try it!! 🙂