Let's start by asking you these questions!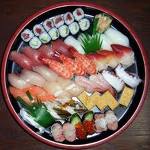 Is sushi considred a good meal to have when you are on diet??
 Is it fattening and high in calories??
 Is it healthy??
A lot of people love sushi and others not! When you try it, it is either you like it or not! 😉
 You may enjoy  sushi with friends at a sushi bar or restaurant, then you may find yourself eating the whole menu! So you end up saying, that's fine it is sushi! right?? 😉
Sushi is a very healthy meal made mostly with rice, fish and vegetables. But it should always be made with fresh ingredients for the safety of the eater and for better  flavors which are also enhanced with healthy condiments such as soya sauce, ginger and wasabi.
These condiments offer a lot of benefits!
Soya, the main ingredient in soya sauce, has been linked to lower breast cancer and fewer menopausal symptoms. Soya is a high quality protein, low in saturated fats and is cholesterol free. But it is high in sodium but light or low sodium versions are available 🙂
My favorite sondiment!! Ginger, called 'gari', helps with digestion and in fighting bacteria. It is mainly used to change the taste when trying different itmes, but I don't mind having a whole plate! Lool…
Wasabi, kills  bacteria found in raw fish and is often mixed with the soya sauce for a better flavor.
Sushi is a healthy food because it has low- fat ingredients, but some choices are  healthier and even lower in fat than others:
1– Avoid sushi prepared with mayonnaise, with 90 calories from fat in a single tablespoon.
Usually sushi rolls are prepared with mayonnaise.
In average, one roll contains 90 to 300 calories depending on the ingredients and the size.
Some crunchy rolls are fried and even topped with extra mayo mixture, so avoid these ones! You can request no mayo in your items!
Usually some salads dressings like the one of salmon avocado salad are mayo base, so just order it with low dressing. Still wanna enjoy the good taste right?!
2– Go for the raw tuna, salmon sashimi as these are very rich in omega-3 and low in fat, plus carbs free!
Raw meats have a higher chance of being contaminated than vegetables or rice. So you need to choose a sushi restaurant with a good and clean reputation.
Pregnant women are not advised to eat raw fish because of its high levels in mercury which can accumulate in their bodies and in turn can harm the baby.
Salmon has less mercury than tuna!
3-  Avoid deep fried items like tempura because  these are full of cholesterol, saturated fat  and calories!
 Even if it's a vegetable, it's still fried, and honestly, not light.
Sushi is extremely healthy as long as you know what to choose! It contains important minerals like iodine, essential for proper hormone function. You also get the benefit of magnesium, calcium, iron, phytonutrients and folic acid from eating sushi rolls!
Enjoying a cuisine is an art, but… Remember, moderation is the key! 😉