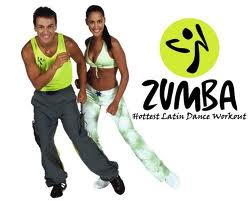 Are you ready to put yourself into shape again?
 That's typically what the Zumba program is all about!
 It's an  effective, easy-to-follow, Latin-inspired, calorie-burning dance that's moving millions of people now towards joy and health!
Personally I love all dancing classes! But this type of dance is really the most enjoyable, energetic and effective one I've ever done!
And it is the only Latin-inspired fitness dance that blends a mix of red-hot international music for all ages! 🙂
The number of calories you burn while zumbaing depends not only on your energy level but also  the type of class you attend. That means some  instructors are more intense than others…
This is probably why the number of calories can vary from 450 to 750 calories per hour!
Watch this video! 😀