This is my typical breakfast, it's been a month!
Every time I pass by starbucks, I can't not to stop by to get this "Mediterranean Sub Sandwhich"!
Although its  ingredients are so simple, this sandwhich is simply soo tasty! Especially when you heat it until the cheese melts and the bread becomes crunchy! 😉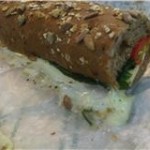 – Multicereal brown bread
– Mozzarella cheese
– Fresh Rocca leaves
– Red and yellow capsicums
– Pesto sauce
As I estimated, this sandwhich is about 370 calories!
And perfect as a healthy filling breakfast! 🙂