Well let me tell you yesterday what did I have for lunch! 😀
I felt I wanted something vegetarian, but At he same time a dish that  contains proteins and makes me feel full!
It's ramdan time! So almost all restaurants don't serve food, mainly the healthy restaurants.
 I had lunch from "Health Company": http://www.hckwt.com/
– Koushari (200 cal): It is a an Egyptian dish made of lentils, rice, foul with tomato sauce and roasted onions!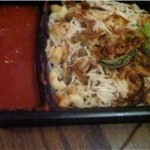 In Lebanon, it is close to "Moudardara" 🙂
Koushari is full of iron and plant protein, so for those who are vegetarian it can be an excellent option!
– Beetroot corn salad (130 cal): Made of lettuce, beetroots, sweet corn and raw onions with the lemon mustard dressing.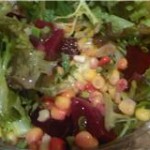 Beetroots are an excellent source of folic acid. They are a very good source of fiber, manganese and potassium. Betacyanin is the pigment that gives beetroots its red color and has powerful antioxidant properties.
A Low-fat lunch of 330 calories! Plus I felt full!! 😀