As it is Ramadan now, we all know that we can't eat until late afternoon, especially at work!
That's why I have shifted to a fulfilling breakfast that I usually take at home before I go to the clinic… And this morning's oats did just what it was supposed to!!
What is it??
It is the Crunchy Fruit Muesli from Ared AL Tabi3a: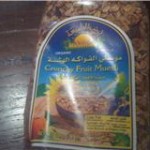 It is a super fiber rich breakfast, containing lots of oats, dry fruits, sunflower seeds, honey, yogurt,  with 170 calories per 1/3 cup!
I personally mix it with light Activia yogurt, and put the whole mixture in the microwave for 30 seconds, until the muesli becomes tender a bit!
It's very delicious, gives me a a huge satiety for the whole day!
Plus it has a fruity taste, something I love in the morning!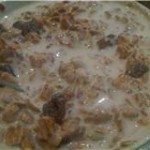 A bowl of overnight oats can stay with you through the whole morning.
So That option works best for souhour as well, as it  doesn't make you feel hungry the next day 😀
3 Tablespoons + light Activia bottle: 250 calories
Fiber fights against constipation, decreases blood cholesterol and sugar!
Try it ! 😉