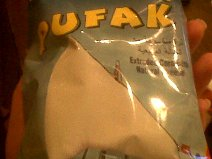 I guess PUFAK Chips is one of the favorite chips  for many people 🙂 No wonder! It's really delicious and it is the favorite one for me as well!
A Lot of you donnow the actual nutritional facts of it, and think that like other chips,it  is fattening and full of saturated fat..
Well Pufak chips, and fortunately is BAKED AND NOT FRIED! Yess that means it doesn't contain Trans fatty acids, the number one cause of cardiovascular diseases.
http://www.eatlikemira.com/2010/03/03/questions-about-fat/
Plus this cheese flavor pufak, doesn't contain a lot of calories for its big size.
Other small chip packs can contain more than 100 calories, but are smaller in size and full of saturated and Trans fats.
Pufak contains only 127 calories, and can be taken as an afternoon snack sometimes, for people who are craving for salty munchies 😉