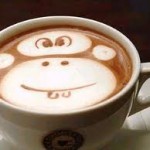 Have you ever took into consideration how many calories can you actually consume by only having one cup of coffee??
It will be weird to know that most of  your morning coffee contains a lot of  unnecessary fat and calories! So why don't you keep those extra calories for a healthy breakfast instead 🙂
You can enjoy a simple morning coffee! How???
Follow these tips:
1- Avoid adding cream to your coffee:
Cream contains saturated fat, which leads to an increase in blood cholesterol levels and to weight gain. Adding cream will make you take up to 110 extra calories and 8 grams of fat in 400 ml of  coffee.
2- Do The right choice:
Mainly most of the coffee you order is full of  fat, that's why always order your coffee to be reduced in fat, which will eventually reduce 10 to 14 grams of fat in 400 ml of coffee. Go for a skim or low-fat milk! And believe me it won't change anything in the taste 😀
3. Avoid Adding sugar:
If you like a sweet coffee, try to avoid the white and the brown sugar, as both contain lots of calories! Instead, use a  sweetener (consuming it in moderation DO NOT cause any medical problem).
4. Be Careful about your coffee size!
As we all know, there are a lot of coffee sizes… I always go for the small size… In that way, caffeine content, fat content and calories will be reduced.
5. Add protein and calcium to your coffee:
I know that most of you prefere to have a plain and black coffee. But milk is necessary as it contains calcium, vitamin D and protein! Do not neglect this point! Especially that Vitamin D deficiency is so common now!
Just  to remind you that Vitamin D is not found in skim products, order a low-fat milk!
What Else??
Coffee contains antioxidants, which fight against cancer problems, but do not consume more than 2 cups of coffee daily. Too much caffeine intake is not recommended.
Coffee contains "cafestol" which increases blood cholesterol levels, so people with cholesterol problems are not allowed to have more than 1 small cup per day.
I personally love my morning coffee/ skim milk"
250 ml Kd cow, 2 teaspoons of nescafe, 1/2 sachet of Tropicana sugar.
 Can't start my day without it! 😀